Urban Transport
Introduction to Planning Efficient City Bus Systems
Programme Date: 7 – 8 July 2015
The National Urban Transport Policy 2006 advocates robust public transport systems for Indian cities and towns to solve problems of mobility and deteriorating environment. City bus services are the primary mode of public transport serving most of the commuter demand in Indian cities wherever they exist. Of the 475 urban agglomerations in India, only about 60 cities have formal bus services under different kinds of management systems.  The absence of bus services in most cities combined with inefficient bus services in other cities is resulting in a rapid modal shift to privately owned vehicles in these cities. Hence, there is an urgent need to effectively plan city bus systems in Indian cities and develop these services in an affordable and efficient manner for its long term sustainability.
This 2 day course aims to provide participants with an in-depth understanding of critical aspects of bus-based public transport systems namely, bus network planning, costs, revenue and bus fare structuring. At the end of the course, participants will be better acquainted with the public transport scenario in India and its issues. Secondly, they will have a better understanding of the data requirements and types of surveys to be conducted. Thirdly, the course will help develop skills to identify city bus routes and plan networks.
Moreover, the course will focus on costs, revenue and fare fixation. From the sessions on the second day, participants will understand the basic approach to cost recovery, appreciate the concepts of fare discrimination and apply the techniques of fare revision without adversely impacting commuter base. During the course, participants will be encouraged to implement the learning in their cities.
The lead faculty for the course are:
Prof. Sriraman Siva
Dr. Deepak Baindur
The course is intended for public transport practitioners from urban local bodies, transport departments, transport planning authorities as well as students and researchers engaged with public transport issues in the Indian context.
Get acquainted with the public transport scenario in India.
Understand the challenges of improving urban bus transport networks.
Learn the steps in planning a city bus service.
Understand the different types of routes and networks to work with.
Learn how to identify routes and plan networks.
Learn the types of data to be collected and surveys to be conducted.
Understand different types of costs.
Learn the basic approach to cost recovery.
Understand the need and importance of setting fares.
Appreciate the concept of technical and user fare.
Understand importance of techniques of fare revision.
Day 1

Time
Sessions
0930 – 1000
Registration
1000 – 1015
Introduction to overall program
1015 – 1100
Public Transport (PT) Scenario in India

Provisions for bus transport in Motor Vehicles Act
PT in Indian cities
Issues and challenges of existing PT systems in Indian cities

1100 – 1115
Break
1115 – 1215
City bus development

 Steps in planning a city bus system
Data requirements and types of surveys to be conducted
Route identification
Network planning

1215 – 1300
GIS application in PT network planning
1300 – 1400
Lunch
1400 – 1430
Introduction to group exercise on city bus network planning
1430 – 1530
Group Exercise
1530 -1600
Break
1600 – 1700
Debriefing & Discussion on Group exercise
Day 2

Time
Sessions
1000 – 1045
Costs and Revenues in City Bus Transport

Types of costs
 Cost recovery
Sources of Revenue

1045 – 1100
Break
1045 – 1215
City Bus Pricing

Importance of setting rational fares
 Fare policy and objectives
Factors affecting fare structures
Fare revision and fixation criteria
Components of Fare fixation
Examples of Fare fixation by different PT authorities

1215 – 1315
City Bus Fare Collection systems

Fare collection process
Fare transaction media
Fare discounts

1315 – 1430
Lunch
1430 – 1515
Subsidies in PT

Need for subsidies
Breaking even and the need for it

1515 – 1530
Break
1530 – 1630
Exercises in Fare structuring
1630 – 1700
Discussion and Debriefing
1700 -1730
Closing Ceremony & issue of certificates
Working professionals – ₹ 5000
Students – ₹ 2500
Course date – 7 – 8 July, 2015 |  IIHS Bangalore City Campus
Prof. Sriraman Siva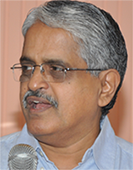 Sriraman Siva is a Walchand Hirachand Professor of Transport Economics, department of Economics, University of Mumbai. He's a transport expert, including Railways, Roads, Road Transport, Ports, Shipping and Urban Transport. He's involved in several organizations including Indian Economic Association, Association for Transport Development in India, Indian Roads Congress, and World Conference on Transport Research Society, Chartered Institute of Logistics and Transport, London.
Deepak Baindur

Deepak has around 12 years of industry experience in the maritime transportation sector (1991-2001) – around 10 years in the Merchant Navy and 2 years in the port construction sector on seaport dredging and land reclamation projects in India with International Seaport Dredging Pvt. Ltd. (ISDPL). After completing his PhD in 2009, he joined the Centre for infrastructure Sustainable Transportation and Urban Planning (CiSTUP) Indian Institute of Science, Bangalore as Transport Planner (2009-11). From 2011-12, he worked as Assistant Professor in the Faculty of Planning and Public Policy, CEPT University, Ahmedabad. Prior to joining IIHS, he worked as Associate Professor in the School of Maritime Management, Indian Maritime University, in their Chennai and Mumbai campuses.