You are here: Home > Platforms

The IIHS hosts a series of regular public interactions ranging from academic conferences, seminars and talks to film screenings, discussions, performances, and exhibitions. Many of these come under two curated series of events called Publics@IIHS and PublicTexts. Use the tabs on your right to see our previous events.
UPCOMING AND RECENT EVENTS
---
Publics@IIHS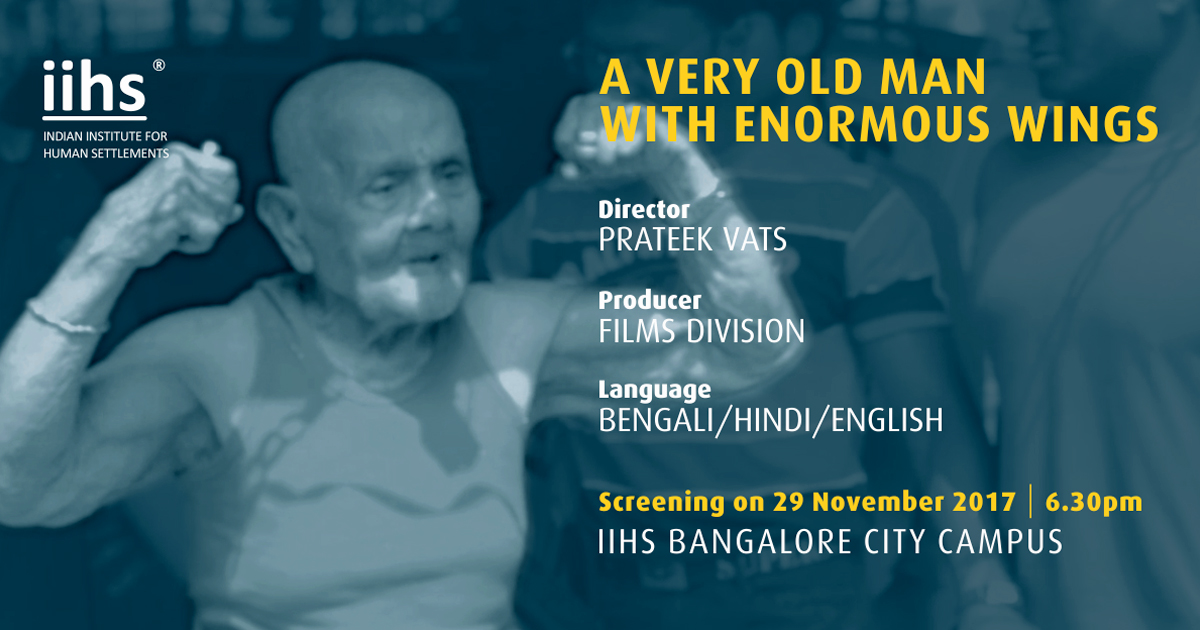 A Very Old Man With Enormous Wings
29 November 2017 | 6:30 pm
Duration: 72min 31sec
Language: Bengali/Hindi/English
Director: Prateek Vats
Producer: Films Division
SYNOPSIS:
A film anchored in the twilight years of the life of legendary Indian bodybuilder and former Mr. Universe, Monohar Aich. As the body fades away, the film begins to take shape.
The film starts on the eve on Mr. Aich's 101st birthday. Mr. Aich's insistence on not remembering anything about his life is where the idea of the film germinates – to consciously move away from the evidential burden of a 'biopic' towards an intimate portrait – A story that transcends time to reveal the oddities that make human stories worth telling.
The film has been shot over a period two years. The complex interpersonal relationships formed during the filming become the lens through which we try to evoke the time that has passed and perhaps get a perspective of what an individual' passionate obsession (or idiosyncrasy?) might mean.
Venue: IIHS Bangalore City Campus
---