You are here: Home > Platforms

The IIHS hosts a series of regular public interactions ranging from academic conferences, seminars and talks to film screenings, discussions, performances, and exhibitions. Many of these come under two curated series of events called Publics@IIHS and PublicTexts. Use the tabs on your right to see our previous events.
UPCOMING AND RECENT EVENTS
---
Publics@IIHS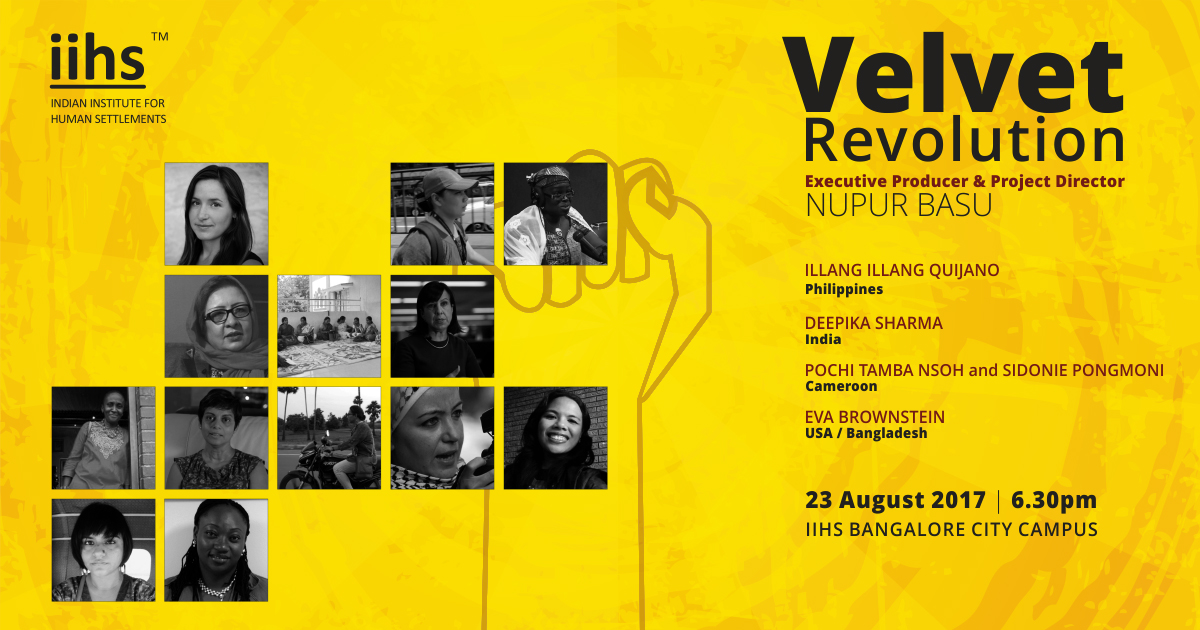 Velvet Revolution
23 August 2017  |  6.30 pm
Duration: 55 Minutes
Countries of Production: Cameroon, India, Philippines, UK, USA
Executive Producer and Project Director: Nupur Basu
Country Directors:
Illang Illang Quijano – Philippines
Deepika Sharma – India
Pochi Tamba Nsoh and Sidonie Pongmoni – Cameroon
EVA Brownstein – USA/ Bangladesh
Editor: Reena Mohan
Co- Editor: Nirmal Chander Dandriyal
Produced By: IAWRT
Synopsis:
In this exciting collaborative film – Velvet Revolution – six women directors take their lens up-close to women making news. In a world riven with conflict and dictatorial regimes where journalists are constantly under threat of both, state and non-state actors, what drives these women journalists to do their jobs?
"I did not want to be a war correspondent… but the war came to my door-step," says award-winning Syrian journalist, Zaina Erhaim, now living in exile in southern Turkey.
"The President is wrong when he says that journalists are being killed because they are corrupt – who corrupts whom… who holds the power to corrupt?" asks Kimberlie Ngabit Quitasol, a young woman journalist from Philippines.
"I could not leave my co-warriors in the middle of the battlefield," says Bonya Ahmed, the wife of slain Bangladesh blogger, Avijit Roy and the Editor of Muktomona, in her first ever documentary interview.
The documentary profiles women journalists who have paid a high price for speaking truth to power.
Executive Producer's Bio-Note:
Nupur Basu is an award-winning television journalist and documentary filmmaker from India. She has reported extensively in print, television and documentary films on politics, development, livelihood issues, environment, health, media and culture from India, Afghanistan, Pakistan, Bangladesh, United Kingdom, Sri Lanka and Uganda. Her non-fiction films include Dry Days in Dobbagunta, Mothers of Mallapuram, Michael Jackson Comes to Manikganj, Lost Generations, No Country for Young Girls.
Trailer: https://vimeo.com/214827824
More information https://www.iawrt.org/news/women-making-news-%E2%80%93-new-york
Articles:
The Hindu
Scroll
The News Minute
Indian Express
Venue: IIHS Bangalore City Campus
---