Geographies of Desire:
Understanding the Urban Through Film
Programme Date: 13-15 March, 2015 | IIHS Bangalore City Campus
How can we tell stories about a city? How can we tell stories about ourselves in the city? Is a city made up of stories? Or does the city make up our stories? Does a city have a "feeling" and are some feelings particular to cities?
Cities are not built through planning and building alone. Strong emotional and sensory currents course through cities, shaping our lives and reshaping the cities.
Whether it an imagined career, an imagined life, an imagined exchange, an imagined romance or an imagined self– how do these impact changes in neighbourhoods, built forms and the "nature" of a city? How are intangible urges and desires made tangible in cities? Cities and people live in a dynamic two-way relationship, constantly reshaping each other, based not only on need, but also on desire.
This course will look at the world of desire through films, as a way of understanding the urban. We will look at the many kind of urban narratives present in films – not only their stories, but the many tiny narratives of desire and emotion inside these stories that tell us something about life in the city. Taking off from these insights about cinema/cinematic storytelling desire and the urban we will create multi-media narratives of our own with stills, tiny video clips, basic graphics and text using mobile phones and computers.
Participants will get a small selection of readings which will invigorate and animate our discussion.
DAY 1
Session 1 – Ain't Just A Love Song
What does the film song tell us about the city – both in its lyric and in its picturisation? How do romance and the city become intertwined and how do they amplify and define each other. We will watch and discuss clips from film songs.
Session Two – In the Mood For Love
How does cinema create a visuality of desire which is specific to the city? What are the forms of romance and desire that cinema conjures up? How do offline and online lives evoke each other? How does glamour play out in urban romance? How do the freedoms and constraints (eg. Of space) of the city shape love – or how do lovers reshape the city?
Home Work – Participants will be given some narrative non-fiction readings and a photo exercise with the cell phone
Session Three – Examples of Some Multi-Media Narratives
We will look at some examples of the kind of narratives we will create by the end of the workshop.
 DAY 2
Session One –Photo Review
Photographs from the previous day's home work will be reviewed and critiqued.
Session Two – Urban Urges
What are the urges that shape our life in the city? Toilet urges, artistic urges, sexual urges. How does the city create these? And how does this impact the city? How do we tell the story of these urges? We will look at some non-fiction clips through this.
Session Three – The Story of My Life
How do people tell the story of the life they made in the city or of the lives of people they knew, whom they consider a "typical character" and what does that tell us about the urban? We will discuss the readings and watch some film clips to discuss this.
Session 4 – Planning the Exercise
We will discuss possible approaches to doing the exercise next day.
Anyone who wants to shoot night pictures will do so that night
DAY 3
Session- Telling And Making Stories About The City Of Desire
Creating the stories. Participants will come with some prep and photos taken. And then create the narratives in the workshop with help from me and IIHS Media Lab. These will be put up online in one blog so people can look at them and share them.
A blog people can add to if they like, which will be a series of stories about the city and desire.
A new, inter-connected, more beautiful articulation of how we tell stories about the city – as well as about standard issues of development and history.
An understanding of what is cinematic and how to tell cinematic stories not necessarily only on film.
An understanding of the urban through multiple lenses – both the intimate and the structural.
Paromita Vohra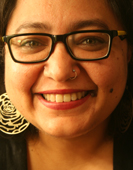 Paromita Vohra is an award-winning filmmaker and writer from Mumbai whose work mixes fiction and non-fiction to explore themes of urban life, popular culture, love, desire and gender. Her work has been broadcast internationally as well as shown in museums such as the Tate Modern, Wellcome Art Gallery and the National Gallery of Modern Art.
She has made the documentaries Partners in Crime, on culture, copyright, markets and the arts; Morality TV and the Loving Jehad: A Thrilling Tale, on the language of tabloid TV news and moral policing, Q2P,on toilets and the city; Where's Sandra, a playful exploration of stereotypes of Catholic girls; Work In Progress an impressionistic portrait of the World Social Forum held in Mumbai; Cosmopolis: Two Tales of a City, which explores Bombay's cosmopolitan self image through land and food politics, Un-limited Girls, a personal take on engagements with feminism; A Woman's Place, about women in India, South Africa and the USA using law to change their lives and communities; and  Annapurna, about a women food worker's cooperative in Bombay's textile mill area.
Her writings have been featured in various popular anthologies as well as academic journals among them Bombay Meri Jaan: Writings on Mumbai, Electric Feather: the Tranquebar Book of Contemporary Indian Erotica, Mumbai Noir, Recess: The Penguin Book of Schooldays, Dreaming Different: New Feminist Writings from Around the World, First Proof: New Writing from India, Signs, The South Asian Journal of Popular Culture and Bioscope.
She has done media workshops with radio, video, writing and mixed-media for 20 years for a number of universities and organisations around the world.
Professionals: INR 8,000
Students : INR 5,000
Course date – 13-15 March, 2015
Course fee will include reading material, refreshments and lunch for all 3 days. Participants will have to make their own arrangements for travel to and from the venue, as well as their accommodation and dinner.